MADE IN GERMANY
Please Allow 2-6 weeks For Delivery.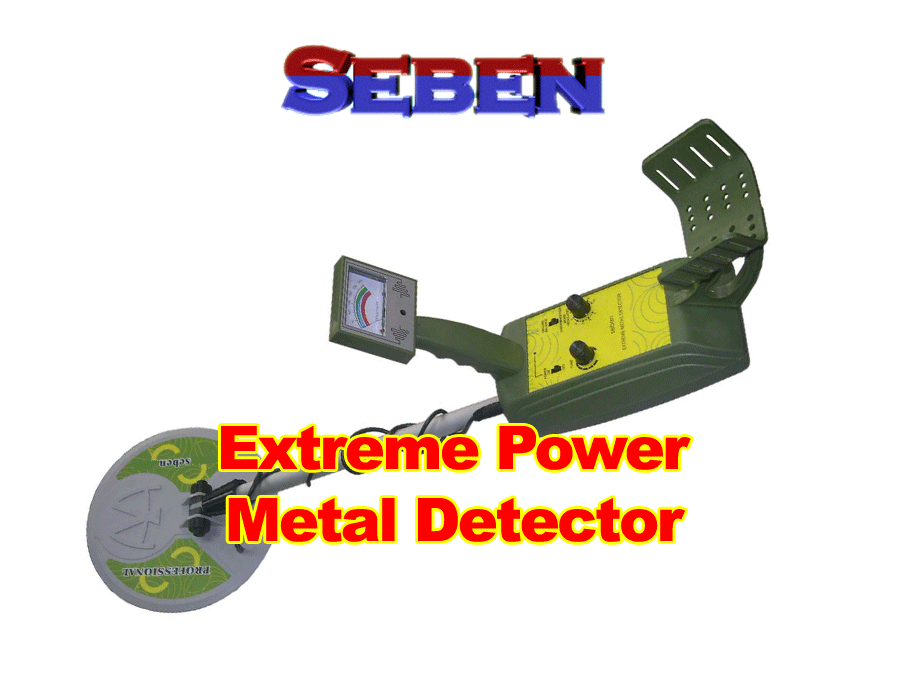 Treasure Hunting is a great hobby and with a little effort and luck it will sooner or later even cover your invested costs. But the real key to success is a treasure hunting technology, which has been tried and tested and which really achieves the promised results. Sebenís metal detectors have been used for over ten years now and have been sold thousandfold worldwide with success.

Unfortunately the market is flooded with metal detectors, which are advertised as the absolute top-devices but are in fact nothing more than overpriced toys. You wonít enjoy a product like this for a long time! Please compare very well before buying a metal detector. With Sebenís metal detectors you will fully enjoy your hobby for many years!

Since we are testing nearly all metal detectors, which are offered on the market, we can conclude that there are nearly no other metal detectors, which provide a better price effectiveness than Sebenís popular metal detectors.

Sebenís metal detectors are functional and very powerful and they will surely soon lead you to success!

Please consider the following before buying a metal detector:

How long has the distributor been selling metal detectors? Have findings been made with this metal detectors?

Sebenís metal detectors are not only used by beginners and advanced treasure hunters, but also by archaeologist, relic hunters and professional institutes, which appreciate a good cost effectiveness.

With Sebenís treasure hunting technology the following treasures and relics were found:

Coins, weapon parts (UK)
the famous ďUrmel-TalerĒ (Germany)
steel helmets, pieces of weapons and medals (France)
stone pioneer-axe (Germany), was found together with an
ancient bell with clapper (Germany)
bones were found near ancient bell with clapper (Germany)
gold ring (785) Ė 37g heavy (Spain)
127 burned WWII Mother-Crosses (Medals) in Seelow-Germany
weapons, ammunition, parts of planes and tanks (Russia)
SS-Ring, weapons, ammunition (Poland)
5 silver rings (castle in Austria)


Not to forget the hundred not mentioned further smaller and bigger findings worldwide.

| | | |
| --- | --- | --- |
| | When buying a metal detector you should give phrases like ďour metal detectors are like the ones used by professionalsĒ your full attention, because Sebenís metal detectors are really used by archaeologist etc.. Our competitors try to compare their metal detectors with those of professionals, but Sebenís metal detectors are what they are using! | |

Best Price Treasure Finder Metal Detector REQUEST SEBUTHARGA



very appealing low price metal detector for beginners



Versatile Perfect Metal Detector REQUEST SEBUTHARGA



unbeatable cost effectiveness



Professional Metal Detector Deep Target RM700



Sebenís most famous and popular metal detector offers extremely high performance and full automatic. Great finds since years !



Seben Extreme Power Metal Detector RM845



Suitable for archaeologist and relic hunters, there is nothing more powerful in the price category up to 500 GBP

| | |
| --- | --- |
| | KETERANGAN Extreme Power Metal Detector: |

The Seben Extreme Power is a high performance metal detector with an enormous detection capacity which has been designed for discerning professionals and specialists in locating at large depths.

The Seben Extreme Power is therefore primarily used by archaeologists, researchers and other specialists, as this device can be adjusted with extremely high precision for each special application.

Perfected discriminator technique (searching for precious metal) with infinitely adjustable metal differentiation prevents futile incorrect digging, because the display of undesired metals (e.g. scrap iron, tin foil) can be precluded. The metal differentiation takes place optically and acoustically via an integrated loudspeaker and in the large, colour marked display. The signal tone volume is infinitely variable.

The all-metal mode can be switched on to enable any underground metal traces to be detected and is also signalled both optically and acoustically.


An extra large, 25 cm waterproof pick-up coil with its intricate 2D helical winding technology enables the very fine and precise measurements to be carried out and despite its sensitivity is extremely robustly sheathed.

Extreme detection depths up to 2.5 metres for large objects and up to 35cm for coins!

Adjustable sensitivity depending on the search purpose and target.

Optimum, manually adjustable basic setting to ground conditions and sub-terrain! Detection possible even in difficult soils containing minerals.

A separable telescopic rod with adjustable length and the ergonomically shaped handle with 32-fold ventilated arm support makes it comfortable to carry and enables lengthy, trouble-free working with the optimally balanced device, even by small and very large people.

A particularly low-current drain technology enables the device to be used for long periods.
A connection for an external 12 Volt power source (accumulator/battery) is available as an option.
With integrated headphone connection for undisturbed perception of the signal tones.
(Important: undesired third persons cannot listen in!)
Exact pinpointing of location and depth.

Convincing facts:


Searching principle: Motion (movement)
Weight: 1.8kg
Dimensions: LxBxH: 85cm to 125cm x 25cm x 18.5cm
Pick-up coil: 25cm
Power supply: 8 x 1.5 Mignon R6 or external 12 Volt accumulator or battery
Headphone jack: 3.5mm
Detection depth: Maximum search capacity for larger objects 250cm
Small coins approx. 35cm
Working frequency: 6.99KHz
Discriminator technique: (metal differentiation and filtering)



This offer includes:

1x Seben Extreme Metal Detector
sms: 012-515 3237
Shipping Fee Rm15.00 only.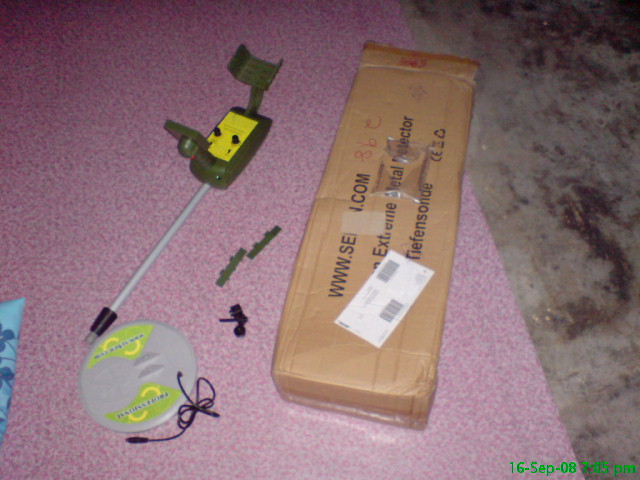 Pack Seberat 3Kg.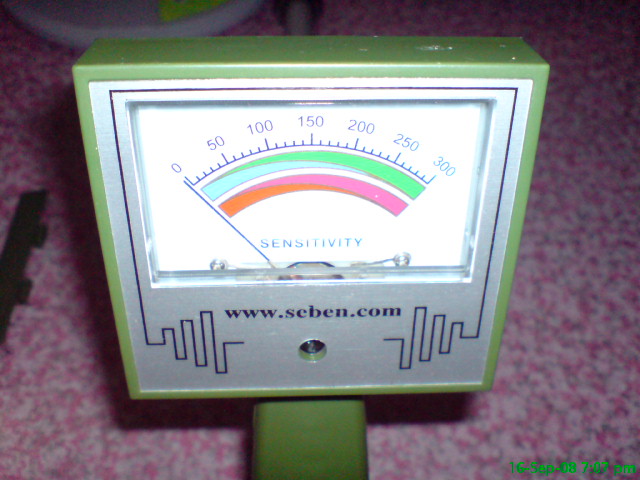 Sensitivity Meter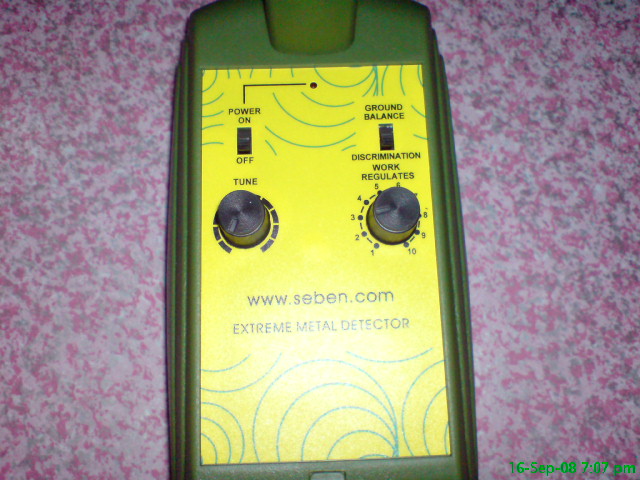 Panel Kawalan.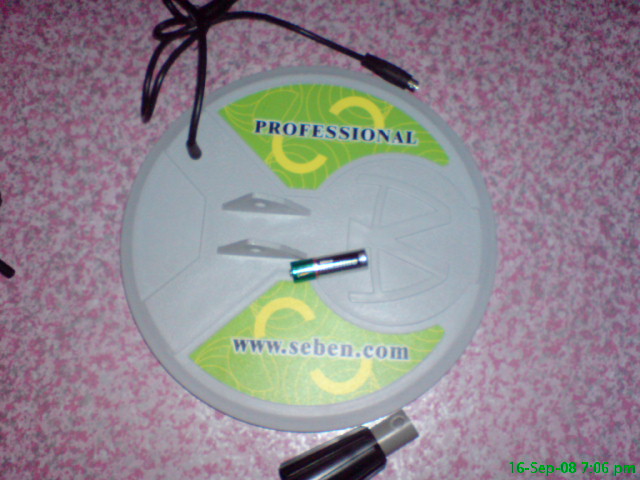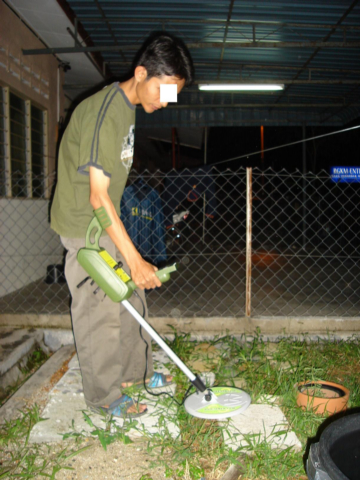 Rod Boleh Dipanjang atau dipendekkan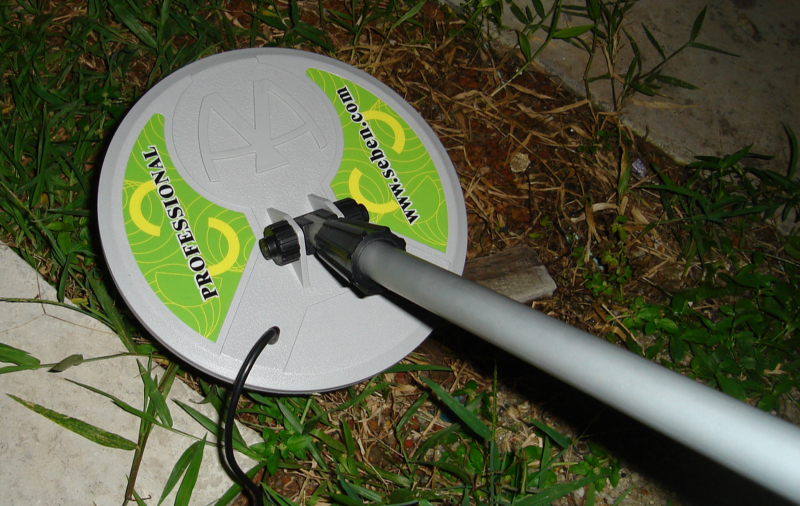 Electromagnet Coil Dengan saiz yang sangat besar.